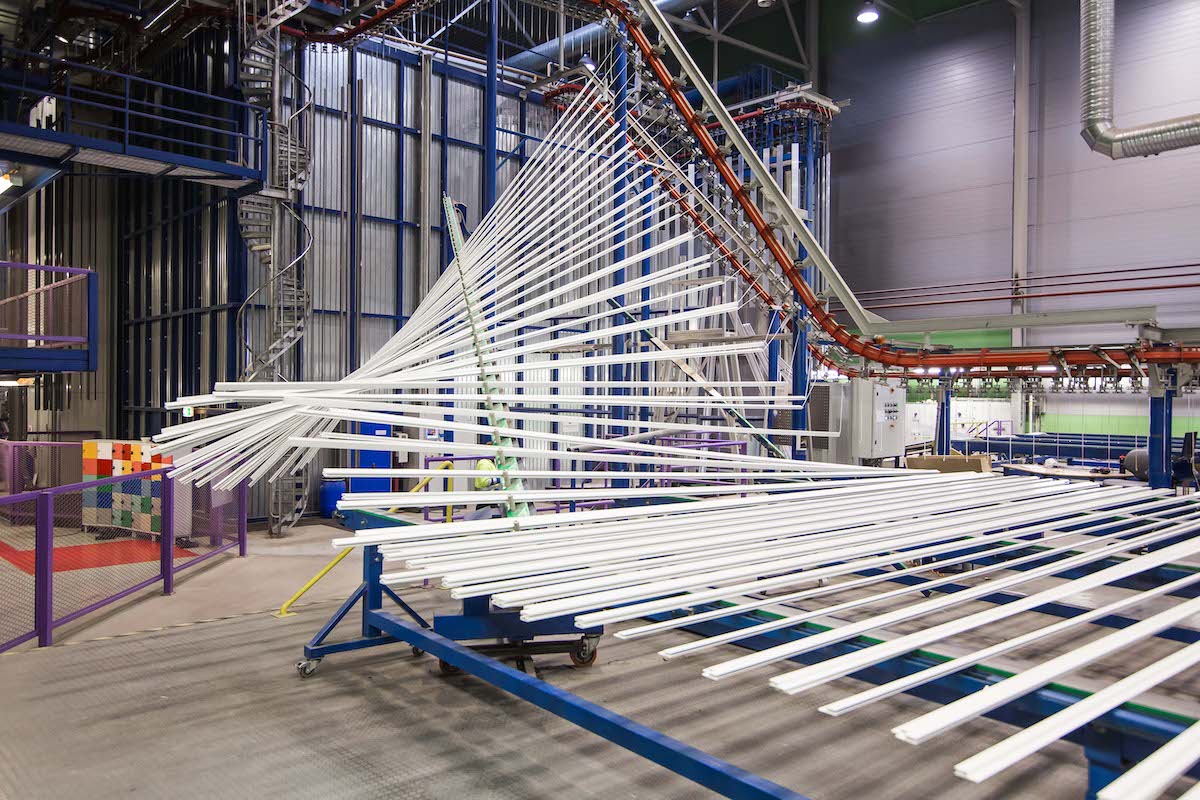 The use of aluminium has increased dramatically this year. Major construction is taking place all over Europe, and the production of electric cars, among other things, has also increased the demand for aluminium.
"At Mäkelä Alu, this means that production is running at full capacity, and we have had to rethink our budget," says Production Director Tero Suomalainen.
"The increase in demand started at the end of last year and peaked in March. Since then, demand has increased by 15 to 20 per cent, and the outlook is similar for the coming months," says Sales Director Mika Korkea-aho.
The limited availability of raw materials and components has affected the entire global market. Nonetheless, Mäkelä Alu has been able to secure its customer deliveries, even though the procurement of paints has been exceptionally challenging.
"There have only been some minor delays, which can be counted in days," says Korkea-aho.
Mäkelä Alu was not affected by aluminium shortages
The limited availability of aluminium has been a common concern in Europe, but not for Mäkelä Alu.
"Our raw material procurement is based on long-term agreements with three raw material suppliers. The agreements ensure that we always receive aluminium as planned," says Sourcing Manager Ari Kytölä.
Raw material could also be purchased through so-called spot trading.
"In some situations, spot trading may be a cheaper option than annual purchase agreements. But once the spot market is cleared, the availability of aluminium depends entirely on whether suppliers have any raw material left. This has caused major problems for many operators in the sector. This problem does not exist with an annual agreement. While it may tie up more capital, the benefits of long-term agreements and partnerships become clear in these types of situations," says Kytölä.
A capacity reservation contract helps secure deliveries
Most of Mäkelä Alu's customer relationships are based on partnerships and long-term capacity reservation contracts.
Our capacity is planned using capacity reservation contracts. The remaining capacity is used for handling non-contractual orders.
"In the current market situation, it would be all the more important for customers to have a capacity reservation contract. It allows us to ensure fast deliveries. We have less capacity for handling non-contractual orders, which is why delivery times may be extended," says Terhi Rajala, who is responsible for Mäkelä Alu's order-to-delivery processes.
Capacity reservation contracts are planned according to the customers' needs
Mika Korkea-aho and Terhi Rajala encourage customers to negotiate a capacity reservation contract with Mäkelä Alu's sales team.
"If a customer experiences significant fluctuations in demand, it is important to think about the underlying reasons. Together with the customers, we have been able to find ways to level out demand, for example by changing ordering practices," says Rajala.
Demand is therefore one of the things that should be considered together with the sales team.
Customers should also make use of Mäkelä Alu's online ordering services. Using the AluInterface service or Mäkelä Alu's electronic order template will speed up and simplify the processing of your order.
Availability problems took paint suppliers by surprise
While Mäkelä Alu has been able to complete most of its deliveries on time, the company has faced some challenges due to the limited availability of paints.
"The phenomenon behind it has also taken paint suppliers by surprise: they have had difficulty obtaining their own raw materials, such as dyes and binders, which mainly come from Asia. There is currently huge demand for the raw materials for powder coatings and, at the same time, there has been a shortage of containers and container vessels in Asian imports. As a result, container shipping costs have increased tenfold in a year," says Ari Kytölä. 
"At the turn of the year, our biggest supplier announced that they would face availability problems in the spring. We were thankful that they informed us in good time, as it gave us time to prepare. We were able to agree on purchases with other paint suppliers.
At worst, all suppliers experienced difficulties with deliveries, but not usually at the same time."
A quick response is vital
The limited availability of paints has led to additional work and some minor delays in deliveries. We have also had to change suppliers in some orders. In some cases, we have had to discuss possible colour changes with customers.
A quick response and smooth cooperation between the purchasing department, the order and delivery department, and the production and sales units have played a key role in solving these problems.
Korkea-aho applauds the efforts of the purchasing department, which has handled paint changes smoothly. Rajala adds that the IT department has also been very helpful in developing tools for checking product availability for customer orders.
"Paint changes have brought new challenges to order processing, and the purchasing and IT departments' support has been crucial in these situations," says Rajala.
Capacity reservation contract in a nutshell
With a capacity reservation contract, the customer can reserve a certain amount of our production capacity and ensure that we are able to supply them with the agreed quantity of aluminium profiles on the agreed schedule. Without a capacity reservation contract, delivery times vary depending on the available capacity.
The required capacity should be determined as accurately as possible, as the agreement is based on a mutual commitment. We undertake to reserve a certain amount of production capacity for the customer's products and the customer undertakes to purchase them.
We should be notified in good time of any changes to the required capacity, about four weeks in advance, so that we have time to respond to the change. This is important because we reserve our capacity and plan our production based on our customers' capacity reservations.
As a contract customer, you can also benefit from our other services that support and increase the profitability of your operations. With our AluStorage® service, you can outsource your warehousing activities to us so that you don't need your own storage facilities. In addition, the delivery of aluminium profiles from our warehouse to your location can be automated with the AluCallOff® service.