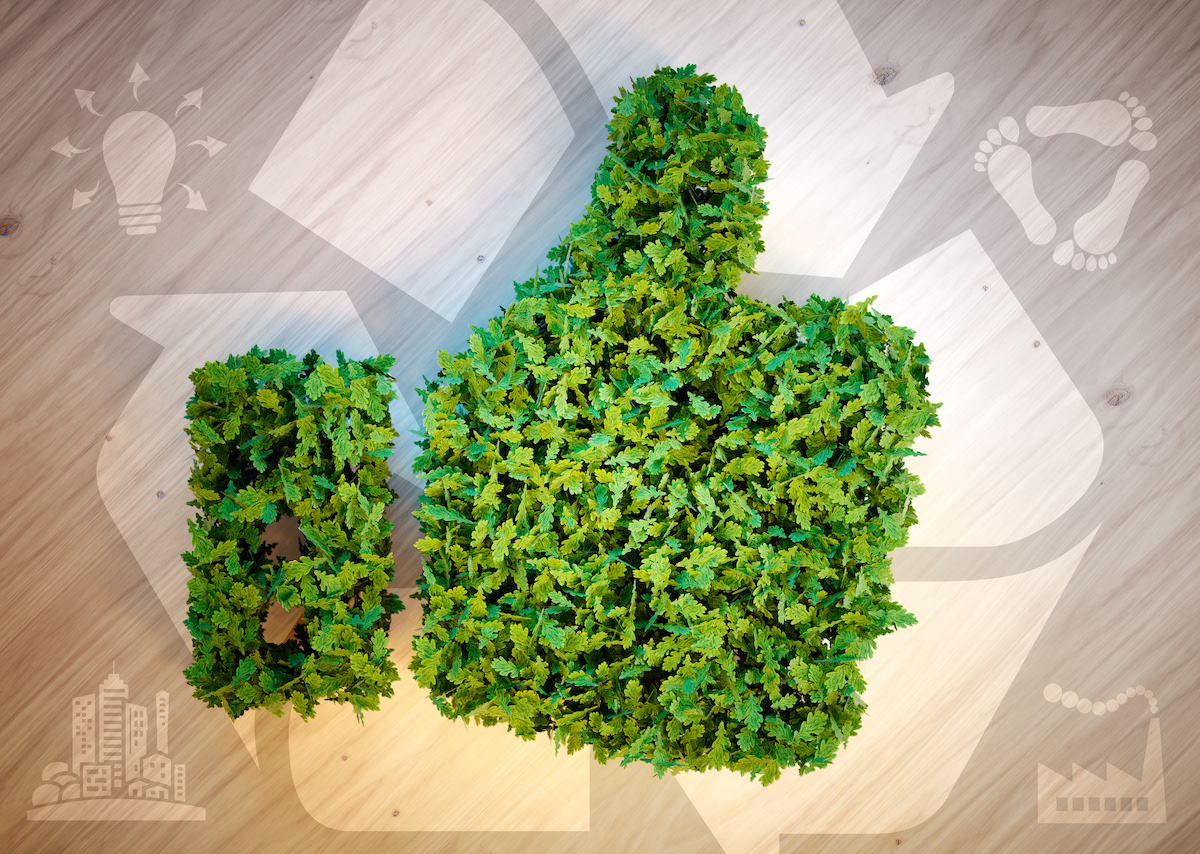 The carbon handprint will become an important factor in purchasing decisions in the coming years. Emissions comparisons show that by choosing Mäkelä Alu, you can significantly improve the environmental friendliness of your company's operations.
Mäkelä Alu has noticed a clear change in what drives customers' choices. Customers are no longer interested only in the price of the product, but also in the emissions generated by its production. This trend started a few years ago and only seems to be gaining further momentum.
"In the past, customers may have wanted to ensure that the aluminium we use is primary aluminium and that it doesn't contain any recycled material. Now many look for the lowest possible primary content or want their aluminium profiles to be made from recycled aluminium produced in our foundry," says Mäkelä Alu's EHSQ Manager Päivi Venesoja.
Mäkelä Alu has invested in monitoring and reducing emissions for years, long before environmental issues and carbon dioxide emissions became hot topics. A few years ago, Mäkelä Alu prepared a detailed report of its emissions, and an article was recently published on the report.
Over the last ten years, the company's production emissions have been reduced by more than half, while production volumes have increased.
"So, investing in environmental friendliness is not new to us, but we are only now starting to talk about it. We are proud to offer our customers aluminium profiles that are among the purest in the world and that have been produced responsibly by any measure," says Petri Mäkelä, Chairman of the Board.
The carbon handprint reveals the environmental impact of your choices 
What is new even to Mäkelä Alu, however, is a concept that companies are just learning to use, and that is the carbon handprint.
The concept provides a new way of approaching product and operational emissions and the environmental impact of our choices. It is directly linked to the carbon footprint.
The carbon footprint tells you the amount of greenhouse gas emissions caused by a product or activity.
The carbon handprint tells you how much a company's solution reduces the carbon footprint of another company, i.e., the customer. In other words, it tells you the positive climate impact of a product compared to other products.
"The carbon handprint is calculated for the customer. The smaller the company's carbon footprint, the larger the carbon handprint it can offer its customers," says Venesoja.
Companies can start to examine the environmental friendliness of their operations by asking for their raw material supplier's emissions information and comparing them with other suppliers' figures. In this way, companies can directly calculate how their choice of supplier affects the environmental impact and carbon footprint of their operations.
The carbon handprint provided by Mäkelä Alu
When comparing the emissions from Mäkelä Alu's aluminium production with global and European averages, we are talking about large figures and significant differences in environmental impact.  
The carbon dioxide equivalent (CO2e) describes the climate impact of human-produced greenhouse gases. The measurement unit used (tn CO2e/t) illustrates how many carbon dioxide equivalent tonnes are produced when a thousand kilogrammes of product are manufactured.
Emissions from Mäkelä Alu's raw material production / averages (tn CO2e /t) 
Mäkelä Alu's own recycled aluminium 1.01 / all aluminium used in the world (recycled and primary) average 15.6 > carbon handprint 14.59
Mäkelä Alu's own recycled aluminium 1.01 / all aluminium used in Europe 8.7 > carbon handprint 7.69
Primary aluminium purchased by Mäkelä Alu 6.36 / global average 15.6 > carbon handprint 9.24
Primary aluminium used by Mäkelä Alu 6.36 / all aluminium used in Europe 8.7 > carbon handprint 2.34


In addition to raw material, the carbon handprint can also be calculated for transport and profile production, among other things. Mäkelä Alu has calculated the emissions resulting from all these processes. For example, a comparison with the European average of aluminium profile production emissions shows that
the figure in Europe (0.68) is more than seven times higher compared to Mäkelä Alu's aluminium profile production (0.094). The carbon handprint of our extrusion process is as much as 0.586 tn CO2e per tonne of aluminium produced.
Your choice of partner can have a big impact on climate change
The figures show that the choice of aluminium profile manufacturer can have a great impact on the climate and the environment. By choosing Mäkelä Alu's aluminium profiles, the customer makes a choice that is better for the environment.
It is good to be aware of these things and think about whether a company that uses aluminium produced in Asia, for example, can claim to be operating in an environmentally friendly way.
"The differences are so great that it's hard to grasp. Even though this works in our favour, this is not a good situation, it's alarming," says Petri Mäkelä.
"Operators around the world still tend to build their primary aluminium production plants directly over the energy source. Production facilities are literally built on top of a coal or natural gas deposit. This provides the energy needed for the production and processing of aluminium," says Mäkelä.
The carbon handprint will become a key factor in purchasing decisions
So, what exactly has awoken businesses in recent years?
"Obviously, facts that cannot be ignored," says Venesoja.
"One change is probably that the generation that has grown up with the realities of climate change is now starting to be in charge of purchases in companies. The criteria for selecting raw material suppliers will change along with them. A cheap price will no longer be prioritised over responsibility issues in procurement," says Mäkelä.
Mäkelä believes that in just a few years, the carbon handprint will be an important factor when making purchasing decisions.
As customers pay more and more attention to emissions, the market will become less favourable for cheap aluminium produced in Asia, for example.
Where does Mäkelä Alu's large carbon handprint come from?
One big factor, of course, is our raw material, which comes from our responsible, long-term partners. The primary aluminium we purchase is mainly produced with hydropower.
Our own foundry also plays an important role. The recycled aluminium produced at the foundry is approved for the manufacture of products bearing the Nordic Swan Ecolabel.
Mäkelä Alu's production plants have used green energy for years. In addition, the company is constantly developing new solutions to improve energy efficiency and the use of waste energy. Mäkelä Alu is also working to eliminate the use of LPG in the near future.
"We have planned various measures for different sectors to further reduce our emissions in the coming years," says Venesoja.
Mäkelä Alu has set a target to make its production carbon-neutral by 2025.
All necessary measures must be taken to reduce the burden on the planet. For this reason, Mäkelä Alu constantly strives to further improve its carbon handprint.