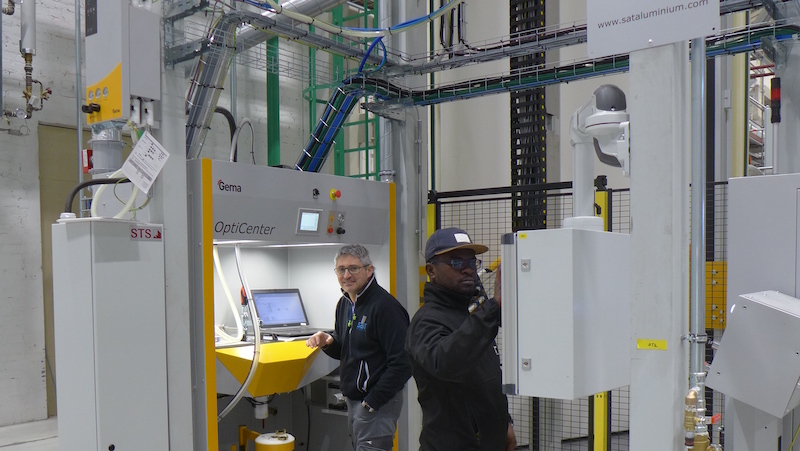 SAT's experts are preparing the new equipment at Voikkaa.
We have invested in a new modern paint shop, and we have been preparing the start-up of operations all spring. The paint shop is located in Voikkaa, Kuusankoski. The project has progressed as planned, and the start-up will be completed at the end of the summer.
"The preparations are well on track. Paint line testing began at the end of April, and pilot production began in May. The first customer profiles were delivered at the end of May," says Mäkelä Alu's Production Director Tomi Pilbacka.
The start-up operations were supported by staff members from Luoma-aho's surface treatment, logistics, IT and quality departments. Arto Kokkoniemi was appointed as the supervisor of the new paint shop. In addition to the supervisor, the Voikkaa site will initially be operated by nine employees. The aim is to expand the unit to run on three shifts.
"The start-up will be implemented in stages, gradually increasing the amount of different paints and profiles. Luoma-aho's paint unit will handle the rest of customer deliveries according to current practices. Customer deliveries planned for Voikkaa will begin at the end of July 2019," says Pilbacka.
A significant step
Setting up the new paint shop is a significant step for Mäkelä Alu, since the company's profiles were previously treated exclusively at the Luoma-aho site.
"We are very excited at the Luoma-aho site as well. Our increased painting capacity will enable us to maintain and improve our service capability and thus allow our customers to develop their own production processes. We are talking about a so-called flow production process, which includes, among other things, a warehousing service, which is part of our AluServices concept," says Mäkelä Alu's Chairman Petri Mäkelä.
More storage space
The capacity of Mäkelä Alu's warehousing service will also increase with the Voikkaa operations.
"Our warehousing capacity will increase, which will mean more flexible services to Mäkelä Alu's customers, which is an important part of the company's strategy. We are pleased that now we have more much needed storage space to sell. The warehousing service is convenient to customers: it lowers the customers' warehousing costs as they do not need to worry about the operating expenses of a warehouse," says Sales Director Mika Korkea-aho.
Voikkaa also provides a more flexible location when it comes to deliveries in Southern Finland. The location enables faster delivery times in certain deliveries and improves the security of supply.